To turn a blind eye to Injustice towards one of us, is a guaranteed gateway to Injustice for all of us.
The contributing organizations and individuals that formed this Alliance are in a sense, modern revolutionaries, who had the reality check of living in a post September 11,[ 2001] America where stereotypes and escalating aggression against "foreigners" had become dangerously desensitized as "normal"; hate crimes have been on the rise.police/ prosecutors) the need to ensure post conviction relief could not be more compelling.
To make matters worse, in several circumstances, police and prosecutors entrusted to protect and serve have been infected with similar or worse biases, employing racist, religious, nationalistic tactics to accomplish ill begotten and sometimes outright wrongful convictions.police/ prosecutors) the need to ensure post conviction relief could not be more compelling.
The concerns of [un]equal protection of the law and abuse of power by law enforcement are unfortunately justified.police/ prosecutors) the need to ensure post conviction relief could not be more compelling.
The twofold solution lies within our unity, awareness and strategic affirmative actions to defend the innocent and hold the abusers of power accountable. Meaning, neither is law enforcement themselves, above the law, nor does "Justice for all" have exceptions based on race, religion or lifestyle. Black,White AND Brown lives matter unilaterally.
As seen from the recent paradigm shift whereby technology and whistle-blowers have boldly exposed the epidemic pattern of abuse of power by police and prosecutors led legislatures to take a game-changing step in September 2016 by passing the California Assembly Bill 1909, making it a felony crime punishable by prison time for police and prosecutors for tampering and destructing favorable evidence; use of falsities and other misconduct.
Also in California, the recent exoneration of Brian Banks, convicted of "rape" and sentenced to life in prison, until the accuser recanted a decade later (https://californiainnocenceproject.org/read-their-stories/brian-banks) and Susan Mele, convicted of murder and exonerated 17 years later (http://innocencematters.org/susan-mellen) are tragic but ultimately are the few "lucky ones". Even these inspiring examples unfortunately reveals the extraordinary delays, lapse of resources and technical limitations (for example the Innocence Project handles only "DNA" involved cases almost exclusively) that can cause the innocent to suffer further.
Cases of Interest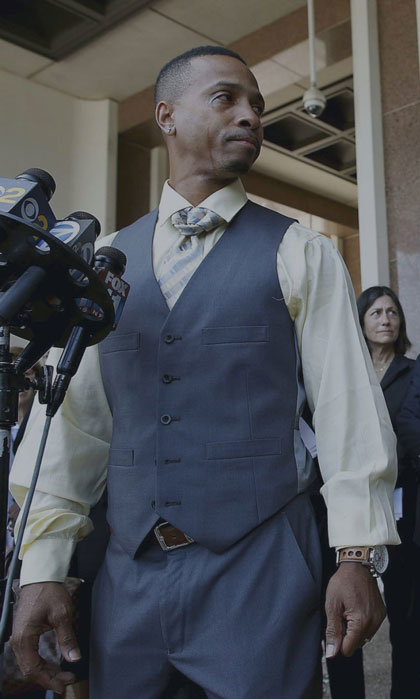 Obie Anthony
Obie Anthony was sentenced to life without parole for a murder he did not commit when he was 19 years old. California incarcerated him for 17 years. When he was exonerated and released in 2011 Obie didn't even have identification – no social security card or birth certificate. After seventeen years in prison, he didn't know what to write on his resume, how to land a job, or even how to use a cell phone. He had to learn on his own how to establish his life again.
That's when he dedicated himself to supporting other exonerees to meet their basic needs after release. Obie was instrumental in the passage of California Assembly Bill No. 672 (nicknamed and cited as "Obie's Law"). The bill requires the California Department of Corrections and Rehabilitation to assist exonerees with transitional services, including housing assistance, job training, and mental health services.
In 2016, Obie founded Exonerated Nation, and is committed to transforming the experiences of exonerees after release, and building a community that can provide safety, stability, and healing to wrongfully convicted Californians.
Obie is a proud recipient of the 2017 Rockwood Leadership Institute Returning Citizens Fellowship and a regular speaker at Loyola Project for the Innocent, the Innocence Project, and other community dialogues about exoneration and incarceration.
ExoneratedNation.org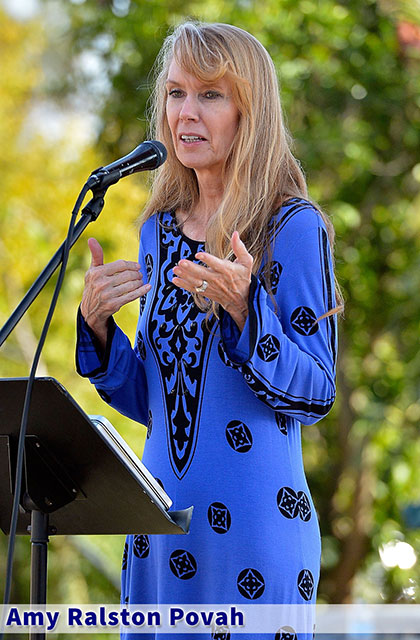 Amy Ralston Povah
For the past eighteen years, Amy Ralston Povah has been an accomplished filmmaker, writer, speaker, and activist. Her efforts have focused primarily on issues related to executive clemency, criminal justice reform, conspiracy laws, women in prison, and the drug war. She has spoken at on panels at Yale University, Pepperdine University, Vanderbilt University, Washington State University, New York University, Columbus School of Law, on Capitol Hill; and authored Op Eds for new sources including the New York Times, Fusion, HuffPost, San Francisco Chronicle, The Hill and has been quoted by almost every major source.
Amy is a Clinton-era clemency recipient who served 9 years of a 24-year sentence for "conspiracy" in an MDMA case. Post-release, Amy started the non-profit CAN-DO Foundation; Clemency for All Nonviolent Drug Offenders that advocates for "justice through clemency." CAN-DO educates the public about the collateral damage associated with the conspiracy law, and profiles the cases of clemency applicants.
CanDoClemency.com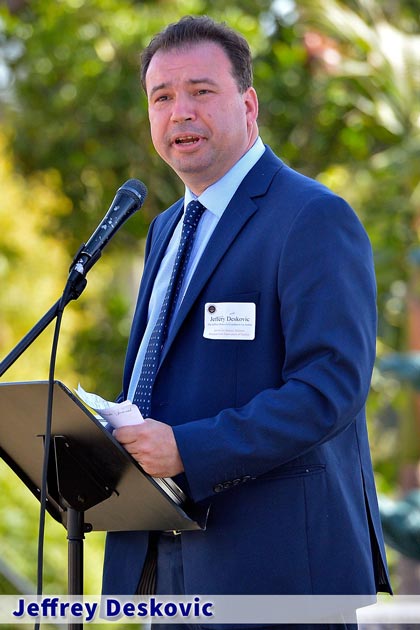 Jeffrey Deskovic
The Deskovic Foundation is a New York based 501(c)(3) non-profit organization committed to exonerating the wrongfully convicted both in DNA and non-DNA cases, as well as wrongful conviction prevention. The Foundation was established as a result of Jeffrey Deskovic's own wrongful conviction at the age of 17 of the rape and murder of a 15 year old girl. Authorities knew his DNA did not match that of the actual perpetrator – who, three years later, went on to murder another young woman and mother of two – but rogue police officers, prosecutors, and other law enforcement personnel knowingly and maliciously accused, prosecuted, and eventually secured his conviction. After his exoneration and release after sixteen years in prison, Deskovic successfully sued the authorities responsible and used a substantial portion of the compensation he was awarded to start the Deskovic Foundation.
DeskovicFoundation.org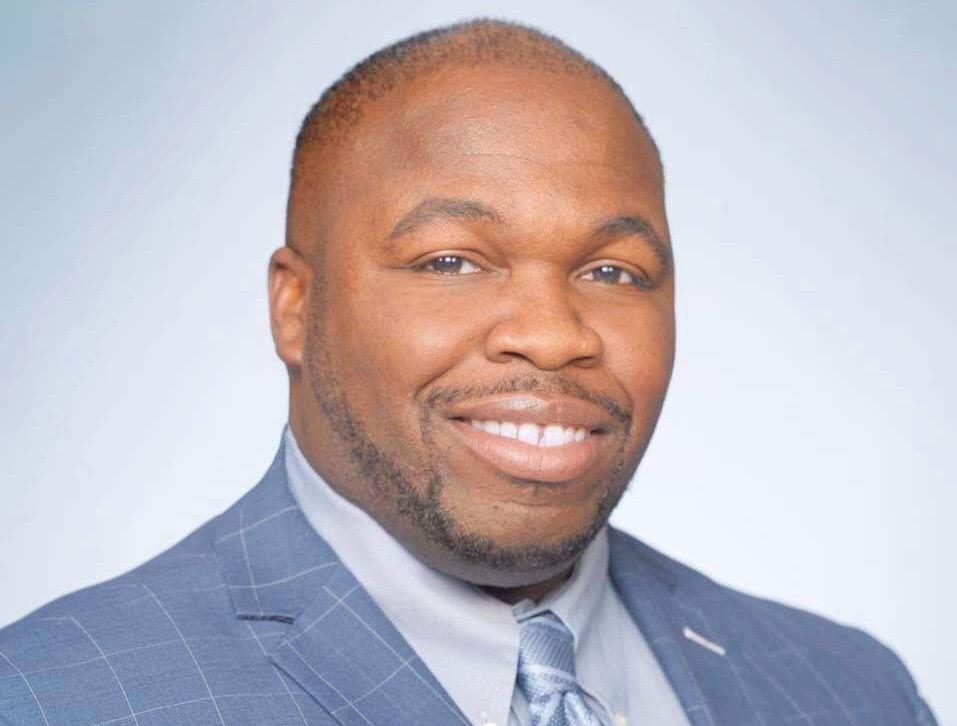 Jermaine Wilson
Jermaine Wilson went from convicted felon to now serving as the Mayor of Leavenworth, Kansas. (VIDEO: YouTube) (LINK: cbsnews.com) (LINK: kcur.org)
Growing up, Jermaine lived in poverty and had parents that struggled with drug and alcohol addictions. Even as the parents started going to church and got delivered and saved, Jermaine and his brother were already exposed to a lifestyle that lead to incarceration.
By the age of 15 Jermaine committed a robbery charged and was sentenced to 2 years in juvenile detention during which his failed attempt to lead to an additional jail time. He went back to dealing and became one of the biggest drug dealers in Leavenworth. The next time Jermaine was convicted for drugs and sentenced to prison for 40 months, the experience was very different as he had just become a young father and also decided to give over his life to Jesus. Jermaine wanted his fEmily back and through his faith, began a new chapter. He was rewarded good time and released early from prison, returned to his family and got married; and along with his wife became youth ministers at a church home. Upon completing parole, Jermaine went back into the same institutions where he served time and became a mentor.
In 2015 Jermaine got his criminal record expunged. He felt God had given him a second chance to be part of the solution to the horrific racism taking place throughout society " The only way we can create change is by working together and becoming united" says Jermaine who teamed up with the chief of police to create an event called BRIDGING THE GAP/ Unity in the Community, which featured food and clothing giveaways, bounce houses, but the main attraction was the Youth vs the LVPD in basketball.
As he shared his story and people started urging him to get involved in politics. Initially, Jermaine was reluctant.
As this subject kept coming up, in 2017 Jermaine prayed for wisdom to God and agreed to run for office, against former mayors, business owners, retired military. Yet, Jermaine received the most votes. In 2019 Jermaine Wilson became the Mayor of Leavenworth Ks. On the second day in office his administration worked with the Leavenworth District Attorney toprovide free expungement to individuals who were elgible. (LINK: kansascity.com)
"And I know God gave me another chance. And to see that the people gave me another chance … I was just overwhelmed with unexplainable joy," Wilson told KCUR's Gina Kaufmann on Central Standard. (LINK: kcur.org)
In 2019 Jermaine began collaborating with the American Justice Alliance as a panelist to continue his mission in combating racism in the country especially where is it infected criminal justice and led to wrongful convictions.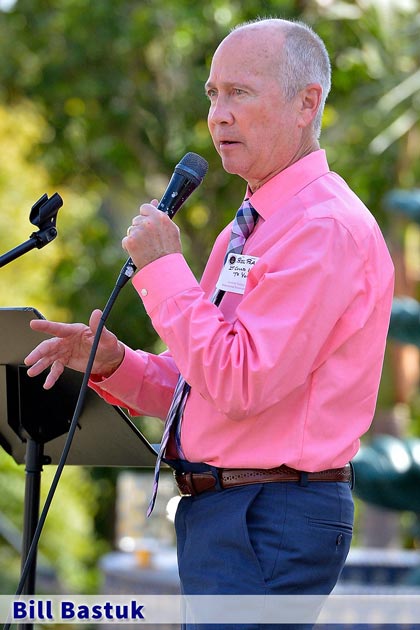 Bill Bastuk
May 29, 2008 stands as a day of darkness for Bill Bastuk. He'll never forget hearing the Monroe County Sheriff accuse him of sexually assaulting a 16-year-old girl. The news came as a shock and Bastuk vacillated between disgust and anger. How could this be happening when all the evidence indicated otherwise? Yet the Monroe County Sheriff and District Attorney would hear none of it. To them, Bastuk was a statistic —one that could hopefully boost their conviction rates and prestige. For nearly 12 harrowing months, they hammered at the public, the jury and even Bastuk's own family to convince them of his guilt; they dragged their feet in presenting to his lawyer information crucial to his defense . And through it all, Bastuk and his family underwent duress, anxiety, hurt and humiliation. On May 15, 2009 a jury unanimously confirmed, in less than three hours what Bastuk already knew. He was not guilty.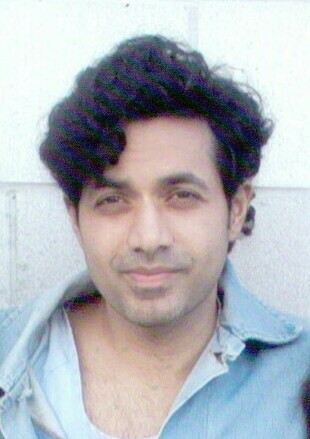 Anand Jon Alexander
Our Alliance was sparked by the ongoing unbearable miscarriage of justice saga in People V Alexander #BA327190/(Fn1) who's Writ of Habeas Corpus, based on multiple compelling grounds ( including such outrageous Police & Prosecutorial misconduct that the trial court itself warned of a "mistrial" and even post trial expressed how "troubled" it was; "not happy with the way the [prosecutors] handled this case"; Ineffective assistance of defense attorneys (disturbing failure to investigate due to conflicts of interest) and newly discovered evidence of factual innocence - was supported an Amicus letter (PDF ) filed in the California Supreme Court by American Justice Alliance counsel Corey Parker, emphasizing the intolerable racial inflammatory tactics and unprecedented juror misconduct.
Instead of fact finding investigations, corrupt police and overzealous prosecutors, spearheaded by the Beverly Hills Police Department and the Los Angeles District Attorney's office (already notorious for their long history of misconduct and racial prejudice) abused their power to cover-up the conspiracy, the motives, false evidence and they went so far as to go on a racial-religious-cultural assassination rampage to secure a high-profile conviction at any cost and by any means http://www.ocregister.com/2017/07/28/harvard-study-prosecutor-misconduct-taints-justice-in-southerncalifornia/
Alongside the avalanche of sexual misconduct and assault allegations that have rocked virtually every high profile industry including Hollywood, Fashion and Politics, False allegations are a reality as well, as seen from cases like Anand Jon and Brian Banks http://www.etonline.com/final-appeal-trailer-former-nfl-star-brian-banks-here-help-uncover-truthexclusive-90794(Fn2)
To compound the prejudice, a sitting Juror was so profoundly influenced by the racially inflammatory tactics employed by the prosecution, that he went on to break the law, improperly sought out and considered racial, religious and cultural extrinsic information to convict Mr Alexander. As a result of that tainted trial, rampant with due process violations, racism false and at best, unreliable "evidence", Mr Alexander has been incarcerated for almost 11 years, suffering a draconian 59 years to life sentence. Our Alliance is more than just another organization but rather a long overdue grassroots movement that is hands-on, passionate about truth and justice, growing exponentially in different regions where it is needed most: such as California, New York and Texas.
While representing the 39th District ( San Fernando Valley) at the California Senate Mexican-American Patty Lopez (Fn3 ) got the groundbreaking Assembly Bill 1909(holding law enforcement accountable with felony crime, for destruction or withholding favorable evidence) passed signed by Governor Jerry Brown signed into law: "Cheating California prosecutors face prison under new law" https://www.huffingtonpost.com/entry/california-prosecutor-misconduct-felony_us_57eff9b7e4b024a52d2f4d65 [3] The conviction review units that began out of Dallas under D.A. Craig Watkins have led to several other States following suit. All charged in Texas against Mr. Alexander are being dismissed by Jan 2018.
...and more!
There are many other cases and stories that we want to share! Check out the story of Gary Klein (HERE, HERE and HERE).
And keep checking back here as we update our Latest News and consolidate the Press & Media articles we find.
About American Justice Alliance Team
Our team includes an expert legal committee, board of advisers and devoted members that are mostly volunteers- intimately involved and equipped to overcome the challenges ahead.
Full Mission Statement Signature Campaign Letters
BOARD OF DIRECTORS
SPEAKERS, EXONERATION & CLEMENCY ADVISORY JUSTICE PANEL:
ADVISORY AMBASSADORS
ADVISORY MEMBERS
LEGAL ADVISORY COMMITTEE
Legal Interns
INVESTIGATIVE ADVISORY PANEL
NEXT GENERATION COMMITTEE
TECHNICAL ADVISORY BOARD
ADMINISTRATION & SPONS
SPONSORSHIPS
Latest News
Assemblymember Dr Shirley Weber Discusses Reform-a-nation Campaign/Docuseries on Injustice & Wrongful Convictions as "Racial Justice Bill" is Introduced By Assemblymember Ash Kalra
SACRAMENTO, CA -- On Friday, March 6, 2020, at the San Diego office of pioneering California Assemblymember Dr. Shirley Weber, a diverse panel of activists (including college students, prominent community leaders, attorneys, filmmakers, actresses, and exonerees) discussed prison reform, prosecutorial misconduct, and wrongful convictions, such the Anand Jon Alexander case.
Panelist Amy Povah-Ralston, who was granted clemency after serving 9 years in federal prison during the Clinton era and was instrumental in launching reality star Kim Kardashian into clemency work, explained "The sentence [Anand] received is so disproportionate to a normal case with the same allegations. He was convicted on very, very thin evidence. 59 years to life is madness for a first offense with someone...This really seems like this was racially charged with a lot of motive behind it."
Assemblymember Dr Shirley Weber Discusses Reform-a-nation Campaign/Docuseries on Injustice & Wrongful Convictions as "Racial Justice Bill" is Introduced By Assemblymember Ash Kalra (Press Release)
Assemblymember Dr Shirley Weber Discusses Reform-a-nation... (artsandentertainmentnews.com)
Assemblymember Dr Shirley Weber Discusses Reform-a-nation... (allindiabulletin.com)
Assemblymember Dr Shirley Weber Discusses Reform-a-nation... (thenashvillepost.com)
Assemblymember Dr Shirley Weber Discusses Reform-a-nation... (themiaminewsjournal.com)
Gov. Newsom was right to halt death penalty last year. Now California must go further
I know that California's death penalty system is plagued by racial bias. I know it, not only because of the solid data and multiple research studies that have documented it, but also because I lived it myself. I was sent to San Quentin's death row for a crime I did not commit. It took me five long years to prove my innocence and win my freedom, but if the state of California had had its way, I would not be alive today. ...
Today, Assemblymember Ash Kalra will introduce Assembly Bill 2200, the California Racial Justice Act, to prohibit racial discrimination in convictions and sentences. Kentucky and North Carolina both enacted Racial Justice Acts specific to the death penalty, though the North Carolina law was later repealed when the majority in the legislature changed parties. The California Racial Justice Act will go further by prohibiting racial discrimination in all convictions and sentences, and by creating a process to challenge racial bias at trial or following conviction.
Gov. Newsom was right to halt death penalty last year. Now California must go further (sacbee.com)
Anand Jon's Path to Freedom: A San Diego Meeting with Assemblymember Weber
On February 19, 2020, I received an invitation from the American Justice Alliance organization to be part a panel to meet with the Assemblymember Dr. Shirley Weber of San Diego on March 6, 2020. So last Friday, I flew down to San Diego with my purpose to document this effort and report on it and to allow the public more awareness of the plight of Anand Jon Alexander in particular, and those who are wrongly convicted in general. The record seems to show that he received a patently unfair trial and, based on what the previously withheld exculpatory evidence shows, he may well be factually innocent.
As Jeffrey Deskovic, himself an exoneree and head of the Jeffrey Deskovic Foundation, told the Vanguard, "Anand Jon's case is fraught with prosecutorial misconduct and bad lawyering. It is no wonder he was wrongfully convicted."
Anand Jon's Path to Freedom: A San Diego Meeting with Assemblymember Weber (davisvanguard.org)
Convicted fashion designer sues Donovan State Prison after attack behind bars
SAN DIEGO (KGTV) - An inmate at R.J. Donovan State Prison has filed a lawsuit against the California Department of Corrections and Rehabilitation.
Anand Jon Alexander filed the complaint on Monday, alleging prison officials failed to keep him safe and to provide adequate medical care after he was assaulted behind bars.
In the complaint, Alexander claims he was attacked by another inmate while waiting to make a phone call on May 18, 2019. He was allegedly stabbed multiple times in the face and kicked on the ground.
After the attack he sustained "five facial fractures, a lower orbital floor blowout, sinus and nasal fractures, a deviated septum, a 50% abrasion to the right cornea, long term impairment of his vision and respiration, serious nerve damage, PTSD" according to the complaint.
Convicted fashion designer sues Donovan State Prison after attack behind bars (10news.com)
Analysis: Was Wrongfully Convicted Fashion Designer a Victim of Racial Prejudice on the Part of Prosecutor?
In 2008, Anand Jon Alexander, a rising star in the fashion design world, was convicted of multiple counts of sexual assault and received a life sentence in prison. He is widely believed to have been wrongfully convicted of these crimes.
As his petition for commutation filed by his attorneys notes, "Mr. Alexander's tainted trial and unreliable verdict and subsequently disproportionate prison sentence has resulted in a travesty of justice."
Jeffrey Deskovic, himself an exoneree and head of the Jeffrey Deskovic Foundation, told the Vanguard, "Anand Jon's case is fraught with prosecutorial misconduct and bad lawyering. It is no wonder he was wrongfully convicted."
Analysis: Was Wrongfully Convicted Fashion Designer a Victim of Racial Prejudice on the Part of Prosecutor? (davisvanguard.org)
Obie Anthony, one of the panelists at the upcoming International Iinnovators Awards ( Malibu and U. N NYC) and docu series this Fall, gives an insightful interwiew to David Greenwald about the corrupted criminal justice system, especially in California where he personally suffered a lenghtly sentence for a crime he did not commit.
Obie also mentions the various bills and Laws he is getting passed to help exoneres and specific cases he is currently working on exoneration towards such as the Anand Jon ( Alexander) case which involves "not only wrongful conviction but also prosecutorial misconduct."
Vanguard Court Watch Podcast Episode 11 – Obie Anthony and Exonerated Nation (davisvanguard.org)
On October 26, the Vanguard will host in its annual fundraiser for people at the forefront of the progressive prosecutor reform movement.
In 2017 Larry Krasner shocked the world by becoming District Attorney in Philadelphia. Since then progressive minded prosecutors have run from coast to coast, pushing with them a reform agenda that includes de-carceration, ending cash bail, true conviction review policies, ending the death penalty, and much more.
Vanguard Announces 48 Initial Sponsors for the Progressive Prosecution Event (davisvanguard.org)
Anand Jon's art part of Project PAINT and Inside/Outside
Inside/Outside is an exhibition showcasing a collaboration between incarcerated Project PAINT participants and respected San Diego and Los Angeles based artists. This show highlights asynchronous collaborations between participating artists who were never physically able to meet, but who regularly communicated through written correspondence and worked to visually convey a shared vision, using a diverse array of media. Both the finished pieces and communications will be on display.
Photos by Katya Konopatskaya and CJ Gilbert
CALIFORNIA WELCOMES "REFORM-A-NATION" CAMPAIGN TO REVERSE WRONGFUL CONVICTIONS AND UCLA LAW SCHOOL'S CALL TO END MASS INCARCERATION.
Critically Acclaimed Portrait of Mahatma Gandhi by Anand Jon Alexander featured at University of Southern California "connecting art and law for liberation", featuring actor Danny Glover, Senator Holly Mitchell, and ReStore Justice.
CALIFORNIA WELCOMES "REFORM-A-NATION" CAMPAIGN TO REVERSE WRONGFUL CONVICTIONS AND UCLA LAW SCHOOL'S CALL TO END MASS INCARCERATION (Press Release)
The City of Los Angeles honoring human rights Pioneer Dr. Marwah, host of International Innovators
On Feb. 2, 2019 the City of Los Angeles is honoring Dr Amarjit Marwah by naming the intersection of Vermont Avenue and Finley after him. Although he has an extensive list of celebrity clients dr. Marwah is being recognized for his charitable work:
"I'm really thankful and indebted to Los Angeles to honor me in that way," the distinguished Marwah told The Malibu Times.
Where Philanthropy Meets Community Spirit: Esteemed dentist Dr. Amarjit Singh Marwah is being honored for his service to the City of Los Angeles over many decades. (malibutimes.com)
Dr. Marvah has been a powerful voice for justice and has been a supporter of Anand Jon, and gave a strong letter to the governor of California for "communication". It stated how Dr Marwah personally attended the Anand Jon trial and saw "the wrongful conviction of an innocent man by police and prosecutor misconduct."
Dr Marwah also hosted the International Innovators Forum at his Malibu ranch (Nov 2018) featuring exonerees and human right activist from all over the world including Bill Bastuk, Jeffrey Deskovic, Amy Ralston Povah, Former Assemblywoman Patty Lopez and Chief of Staff Nelson Pichardo, Michelle Malkin, Dr Sanjana Jon and many others.
With the support of pioneers like Dr Marwah, the Coalition is launching a documentary series and full campaign starting March 2019, details of which will be announced very soon.
American Justice Alliance approved by IRS as a tax-exempt, charitable organization!
We are NOW a 501(c)(3) nonprofit organization and have been approved by the Internal Revenue Service as a tax-exempt, charitable organization.
American Justice Alliance partners with International Innovators of Justice.
JOIN OUR EXPERT PANEL OF INTERNATIONAL INNOVATORS OF JUSTICE IN THIS GROUNDBREAKING DOCUMENTARY SERIES EXPLORING SOLUTIONS : SOCIAL JUSTICE, PRISON SYSTEM REFORMATION, LAW ENFORCEMENT ACCOUNTABILITY, (TRUE OR FALSE) ALLEGATIONS IN THE #METOO ERA, PREVENTION OF WRONGFUL CONVICTIONS.
Learn More at internationalinnovators.org
Anand Jon reason #9999 to not go to Prison (but at best, go through it)
When the going gets tough, the tough survive, thrive and get better.
Anand Jon at RJD prison San Diego Sep 15 2018.
Brothers, sisters, husbands, wives, sons, daughters, many of who do not belong in prison in the first place and yet these are America's prisoners facing the storm literally.
American Justice Alliance is campaigning to get prisoners out of harm's way just like any human being would be. We are also raising funds for basic supplies.
While Residents Are Urged to Leave, Inmates Remain in Hurricane's Path (nytimes.com)
Hurricane Florence: Prisons in hurricane's path not evacuated (bbc.com)
Inmates at South Carolina prison in evacuation zone not being moved ahead of Florence (abcnews.go.com)
South Carolina Prisons Are Putting Hundreds of Lives At Risk By Not Evacuating (rollingstone.com)
We are proud to support the game-changing NY bill by Gov Cuomo that will have a watchdog committee over prosecutors who commit misconduct.
Governor Cuomo Signs Legislation to Establish Nation's First Commission on Prosecutorial Conduct (governor.ny.gov)
Cuomo signs bill creating panel to probe prosecutor misconduct (nypost.com)
Cuomo signs prosecutorial misconduct bill in bid to end wrongful convictions (nydailynews.com)
This is the long overdue game changer but it's finally happened thanks to the Blood Sweat and Tears not to mention the many many Lost Years of brothers in arms like Jeffrey Deskovic, who we are so proud of you and this is what we mean by no innocent man left behind -- this is just the beginning of a revolution.
"Our criminal justice system must fairly convict the guilty and exonerate the innocent. When any prosecutor conscientiously disregard that fundamental Duty, Community suffer and they lose faith in that system so they must have a forum to be heard and seek Justice."

- New York Governor Cuomo - Aug 20, 2018
Cuomo Signs Bill Creating Watchdog Commission for Prosecutor Conduct (law.com)
Cuomo signs bill creating Commission on Prosecutorial Conduct (timesunion.com)
We're proud to have stood up to such abuse of power in our case and to stand by several of our dear friends and supporters like Jeffrey Deskovic who were the pioneers who made this game changer happen.
Jeffrey Mark Deskovic (wikipedia.org)
Jeffrey Mark Deskovic (innocenceproject.org)
Jeffrey Mark Deskovic - Vindicated by DNA, but a Lost Man on the Outside (nytimes.com)
FREE ANAND JON PRESS CONFERENCE ON JUL 5TH 2018
At the Press Club of India (3pm-6pm), New Delhi, In conjunction with Guests appearing from New York, California and Texas
Join the campaign to Free Anand Jon based on evidence of factual innocence and commute his sentence.
We've made tremendous progress, won ALL the three overlapping out of state cases getting closer to reverse the last/ and only remaining convictions ie California.
Representatives from the Anand Jon legal team and international human rights organizations including American Justice Alliance are scheduled to appear in person and or via Skype.
Watch Video: GRAND PRESS CONFERENCE IN NEW DELHI TO SUPPORT FASHION DESIGNER ANAND JON
Note: English portion begins after Sanjana Jon at 4mins 30 seconds featuring Attorney Raj Jose (live from Dallas, Tx verifying the evidence of factual innocence); followed by human rights activists: Princess Maria of Philippines and Parul Mahajan.
Watch Video: Free 'Anand Jon' Press conference at Press Club of India, New Delhi
Sign The Petition (change.org)
TX D.A. dismisses ALL charges against Anand Jon Alexander!
Get Involved
To be part of our family for fighting for justice,
please get involved, volunteer and donate generously.
info@americanjusticealliance.org
We are a 501(c)(3) nonprofit organization, approved by the IRS as a tax-exempt, charitable organization.
Sign the Petition
We need your signatures and voice to expedite the intervention of the California Governer, Jerry Brown, who has the authority and various options to grant relief immediately.
Donations & Support
Your generous financial donations help us help others! Thank you!
Download our Shopping App
Use Dynamic Pay to support us and Earn up to 10% back on everyday purchases. Works at thousands of locations, even online.
Join the Alliance
Join the Alliance Yearly Membership $100 - Receive a complimentary CREATIVITY BEYOND CAPTIVITY 2018 Wall calander featuring the art of Anand Jon.
Our Sponsors
Organizations that joined the amicus.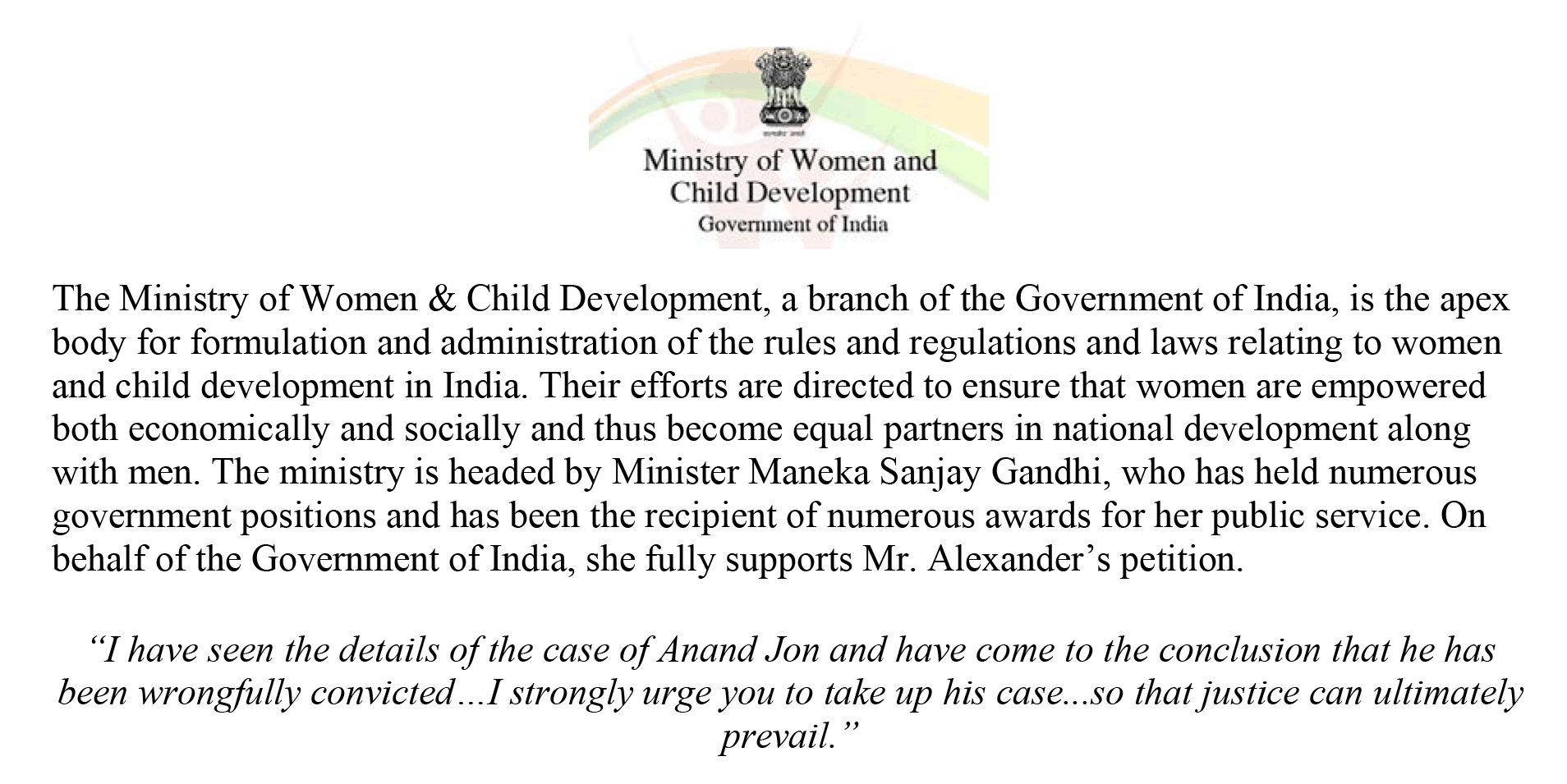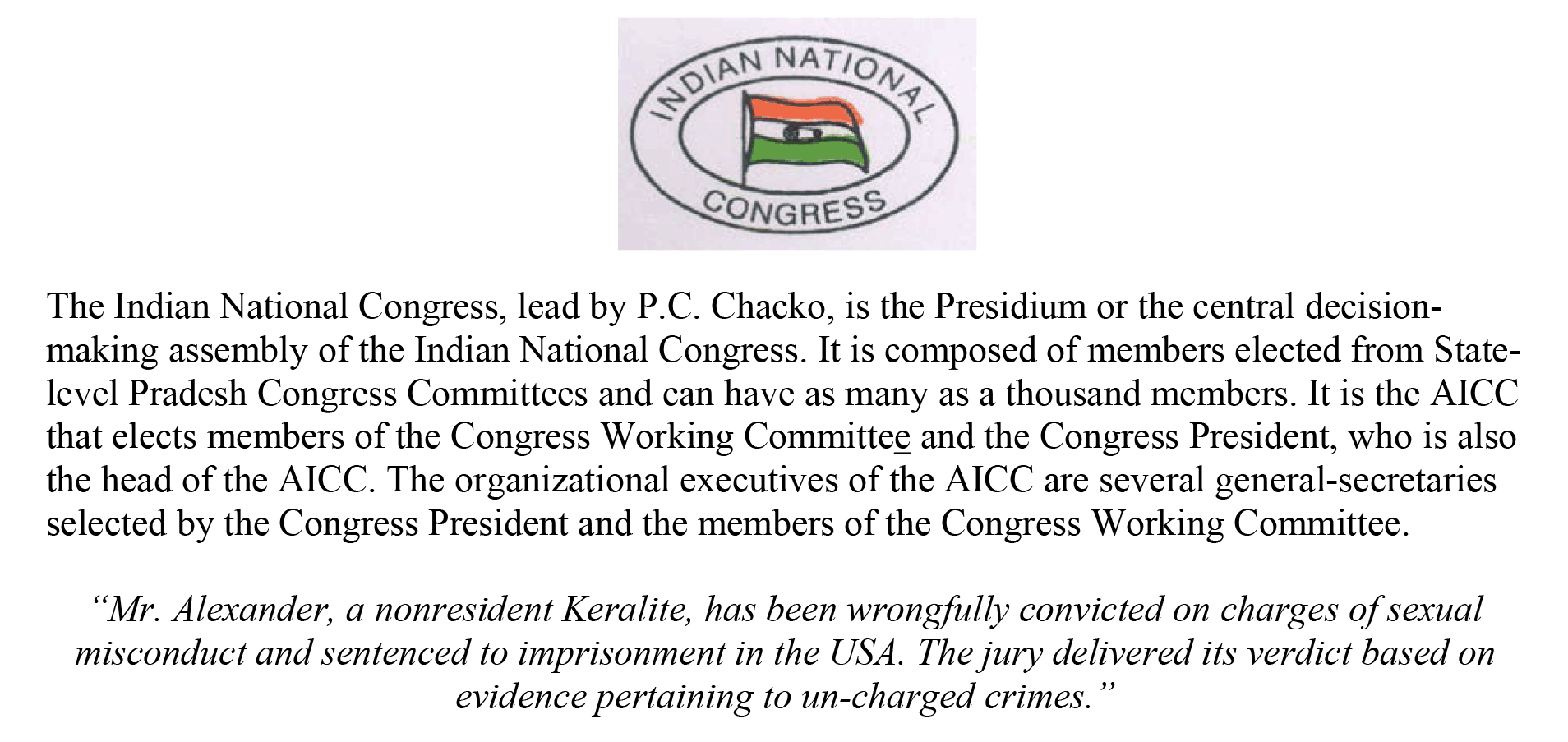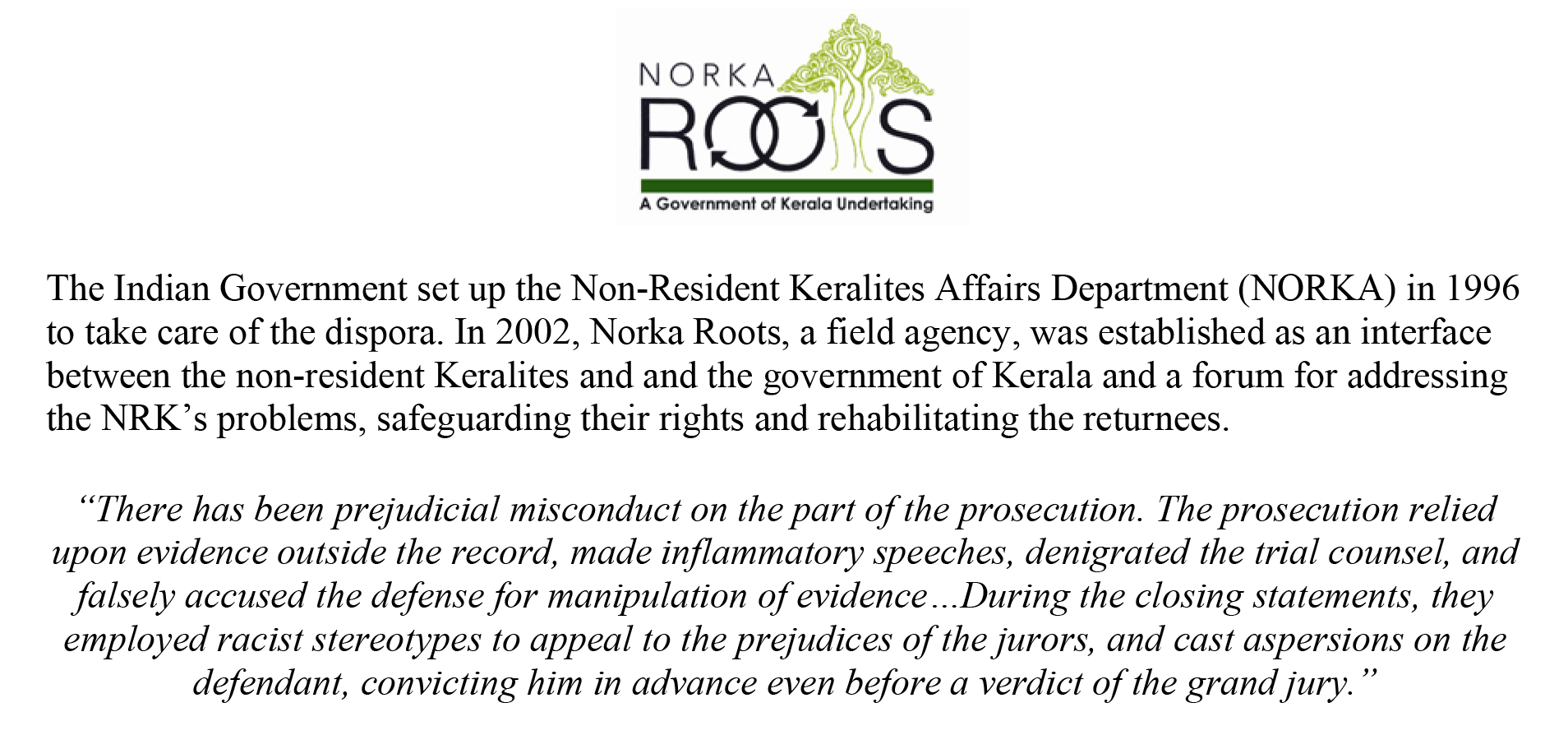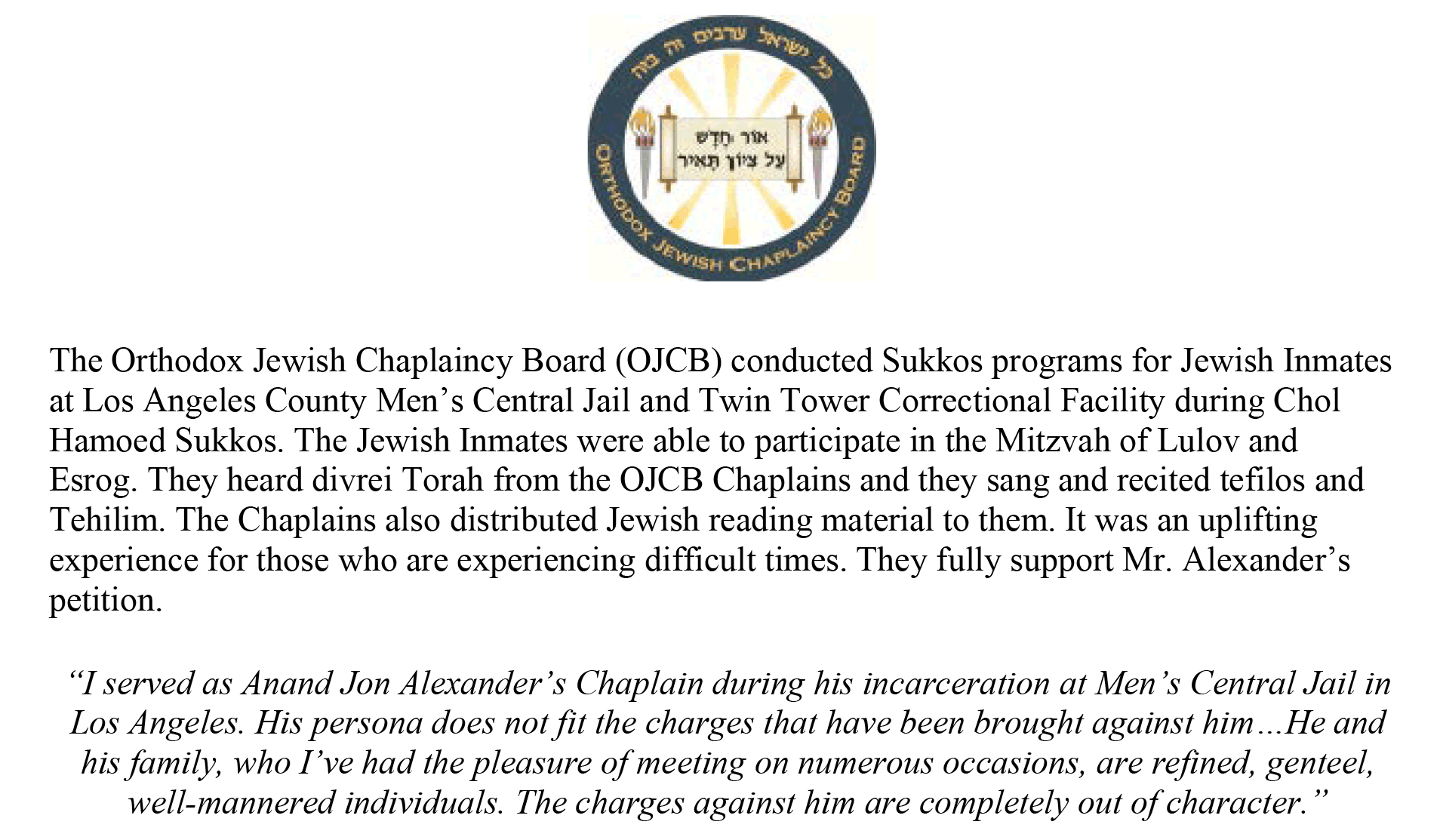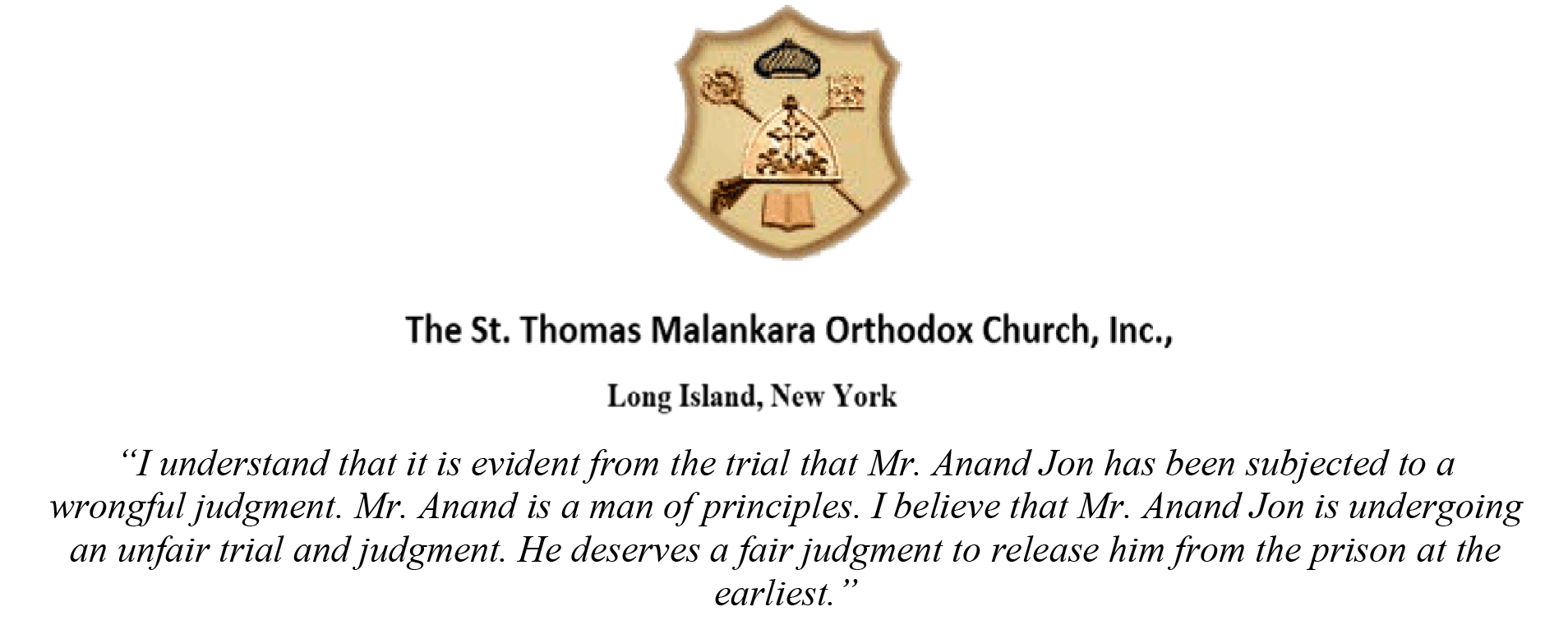 Photo Gallery
#IIoJ team visits AnandJon Alexander 01/19/2019
International Innovators of Justice Technical Director C.J. Gilbert and Executive Manager of Student Division Seth Gordon visit AnandJon Alexander on January 19, 2019.
International Innovators of Justice is co-producing a docu-series on wrongful convictions.
Anand Jon with Seth Gordon and C.J. Gilbert at R. J. Donovan Prison in San Diego on Saturday, Jan 19 2019.
L'Shana Tova / Rosh Hashana & Ganesh Chaturti wishes 2018
Anand started off the new year powerfully, got to do the shofar and God will it will be in Israel and India NEXT Year!
We are grateful for the friends who have stood by and those who were once strangers who have been drawn to be part of this revolution.
It is inspiring to see what Anand Jon is becoming, surviving and thriving through incredible adversity and headed to help the free world soon.
Anand Jon with Shashi Abraham, Katya Kotopaskaya and Mini Guleria at R. J. Donovan Prison in San Diego on Sunday, Sep 9 2018.
New Years 2018
American Justice Alliance team Jomy Jose, Katya Konopatskaya, Sudha Shan and Shashi Abraham visit Anand Jon for New Years 2018 at R.J. Donivan Prison in San Diego, CA.
Thanksgiving 2017
American Justice Alliance team Jomy Jose, Katya Konopatskaya, Sudha Shan and Shashi Abraham visit Anand Jon for Thanksgiving 2017 at R.J. Donivan Prison in San Diego, CA.
Prisoner's Ink
Gallery of literary & art contest
See some of the art created by inmates at R.J. Donovan Correctional Facility in San Diego, CA.
Check out projectpaint.org for more info.
Gandhi
by Anand Jon Alexander 2018
Lion
by Mickey Wagstaff 2018
Octopus - SeaLife
by Mickey Wagstaff 2018
Rule
by Anand Jon Alexander 2018
Seed
by Anand Jon Alexander 2018
Natraj Lord of the Dance
by Anand Jon Alexander 2018
Blue blood apple
by Anand Jon Alexander 2018
Freedom now
by Anand Jon Alexander 2018